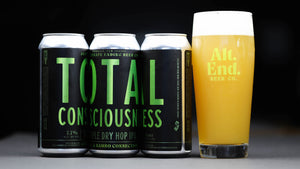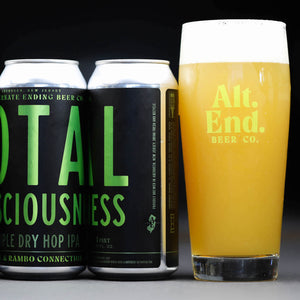 Triple Dry-Hopped IPA 7.7%
abv
ibu
hops
malt
Pilsner
Malted Oats
Flaked Oats
notes
Total Consciousness TDH
Triple Dry-Hopped IPA
There's a force in the universe that makes things happen. And all you have to do is get in touch with it, stop thinking, let things happen, and be the ball. Meet TDH Total C!
order for pickup
The can label
This can was inspired by the original Total Consciousness label for color, and by our special anniversary What If? Triple Dry-Hopped label for style. Thus begins yet another AE label trend...
the very first
TC TDH
This was an easy one for John Turner, our talented designer. We had the colors set from our original TC label, and we already had a design template for our What If? TDH beer can label. It's a safe bet that future Triple Dry-Hopped labels will follow suit.
★★★★

Hazy yellowish-orange color with a nice white head. Citrusy, lime-forward, some orange, peach, and tropical notes. Drinks on the drier side. Lots of hop flavor here. Pretty good.

ben4321

RateBeer.com
we think you'll also like...