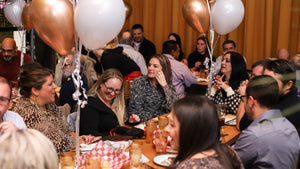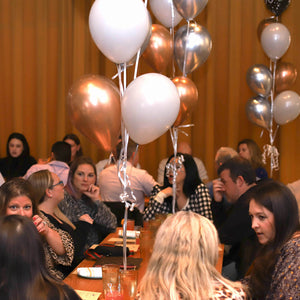 PRIVATE EVENTS
Alternate Ending Beer Co. is located in beautiful Monmouth County, and is the perfect spot to host your next event! Our entire facility holds up to 100 people, and our theater room can accommodate anywhere from 20 to 42 people, making it the perfect setting for a large gathering or an intimate lunch or dinner party. You can even choose a movie or sporting event to play on our 200" movie screen! Bring your family, friends, or colleagues to Alternate Ending for a celebration filled with beautiful beer, delicious food, and incredible ambiance!
If you're interested in booking an event or large reservation at AE, please scroll down and fill out the form below.
Note: private parties are 20 guests or more. Parties of 12-19 are considered a Large Reservation and require a prix fixe menu. Parties of 9-11 must email reservations@aebeer.com to book a table.
Large Reservations
Host up to 19 guests in the taproom with our Build Your Own Prix Fixe or Family Style Feast.
See Packages
Private Party Packages
Rent out our theater room for up to 42 guests, or the entire taproom for up to 100 guests.
See Packages
We had the most wonderful event at Alternate Ending. Emily was patient, respectful, and helpful every step of the way. Everyone the night of our event was friendly and helpful. Renting the movie theater room upped our party to the next level and I cannot recommend this enough.

Evan S

Event Host
I cannot begin to thank you for how amazing everything was yesterday - it was all absolutely perfect! The room setup was great...and the food was delicious! We're so happy that you and your team made our wedding day so fantastic.

Nicole P

Event Host
We just got back and I wanted to say thank you so much for a memorable experience! My partner was surprised and everyone was raving about the food and ambiance.

Aimee

Event Host
I just wanted to thank you for all your help in making yesterday's party amazing!! I've done parties at different kinds of restaurants and this was the first time that I was able to kick back and truly enjoy!! The environment was perfect, the food was amazing and plentiful. Our guests were impressed with the space, food and of course Eric (he was fantastic!!). We will definitely be returning for a future party and of course for dinner and drinks!!


Yezebel M

Event Host
It was a perfect day for us. Thank you so much to all the staff that worked our event. Everyone who was on the clock made it a memorable experience not for just Corinne and myself but for all of our guests. We truly are grateful for the time and energy that went into the planning and execution of our day. Thank you again!! #alternatewedding

Joe L

Event Host