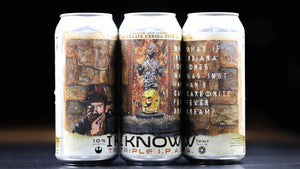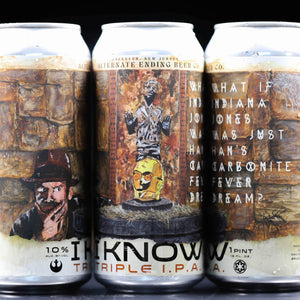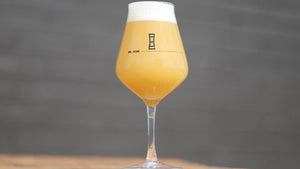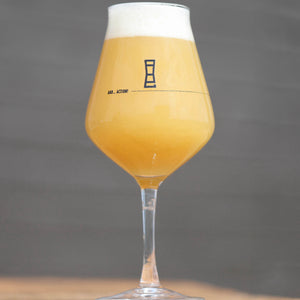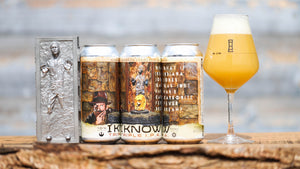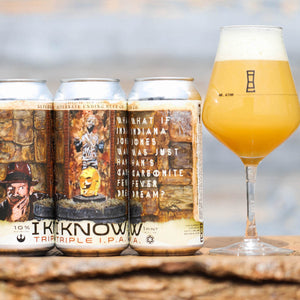 abv
ibu
hops
malt
Pilsner
Golden Promise
Malted Oats
Flaked Oats
notes
I Know
IPA
I Know is a big IPA that's as bold as Brewer Steve's love for the Star Wars franchise. It has an ABV of 10% and is dry hopped with Galaxy, Strata and Crosby's Estate Comet. We were excited to release I Know as part of our annual Star Wars release. It looks galactic in our limited-edition Star Wars glass.

The can label
When it comes to iconic moments in film, it doesn't get much better than the moment when Leia tells Han she loves him, and he just says "I Know" before going into a deep sleep encased in carbonite. What if, during that deep sleep, Han dreamt of being a courageous archeologist named Indiana Jones? Local artist Dave Virelles illustrated this idea for our can label after winning Alt End's very first art show. We think he captured it brilliantly.
the very first
I Know
We had an Indy/Han Solo concept in our minds, so when Dave won "favorite piece" at our first art show with his Indiana Jones painting, we knew this was the can for him to design. In Dave's words: "I began this creative journey with some thumbnail sketches, thinking 'How does Han dream of being Indy? What does that look like?' I did a bunch of movie watching, pausing, and rewatching to try to nail the environment of an 'Indy temple' with Han stuck in the walls. The idol as C-3PO seemed so obvious to me, both being golden, it just made sense. When I began the color sketch, my watercolor set was calling to me. The rest is history and I couldn't be more happy with the results.⁠" So are we.
★★★★

Juicy and bright, melon, peach, grapefruit. Drinks on the sweet side, but not overly so. Light bitterness and light booziness toward the close. ABV is noticeable, but not overwhelming. Quite good.

ben4321

RateBeer.com
we think you'll also like...