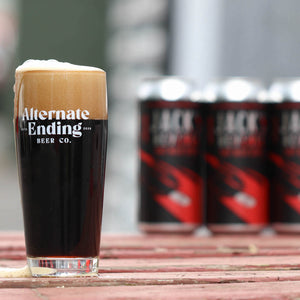 Want some food with your beer?
abv
ibu
adjuncts
Amburana Wood
Brazilian Cerrado Coffee
malt
notes
Jack's Revenge
Oatmeal Stout
This beautiful stout has evolved since we first brewed it in October 2020. With the addition of the magical Amburana wood from Brazil, which provides a wonderful gingerbread quality, this Oatmeal Stout has so much complexity to it. By combining thoughtfully selected Brazilian Cerrado coffee that was chosen and roasted by the Coffee Corral in Red Bank, you add a wonderful depth to this traditional, yet non-traditional low-abv Oatmeal Stout.
The can label
What if Jack Dawson resurfaced at Crystal Lake? Because he never let go of her letting go...
the very first
Jack's Revenge
What if Jack turned into Jason and was out for blood? We love the way our designer John Turner captured the ominous feel for this can label with the spotted red "blood" in the name.
★★★★

Subdued, sweet, candyish aroma. Pours dark reddish-brown. Sweet, faint coffee and chocolate flavors. Well finished, with no off-flavors. Very drinkable, with relatively low 5.6% ABV. Clean finish.

retinadoc

RateBeer.com
★★★★

Pour is dark brown, with a tan head and moderate lace. Has flavors of coffee, nutmeg, cinnamon, allspice, and molasses. Medium bodied, slightly dry on the close. Solid.

ben4321

RateBeer.com
★★★★★

As a big stout fan I love it!

R Rocco

Beer Broadcast
★★★★★

drinkingtonight

Beer Broadcast
★★★★

Good flavors, gets a bit better at warmer temperatures, would like it to be a bit more creamy, all and all very tasty.

David V

Beer Broadcast
we think you'll also like...